Montreal vs. Quebec City – which should you visit?
The Quebec province is one of the most fascinating regions to visit in Canada, and Montreal and Quebec City are its most popular destinations. Both offer visitors a distinctly European vibe, historical charm, delicious French-Canadian cuisine, and plenty to see and do.
Both Montreal and Quebec City are well worth visiting, and both cities have a lot to offer travelers! But if you can only choose one and are having the dilemma – should I travel to Montreal or Quebec City? – well, I'm here to help you decide!
I had the opportunity to visit both spend 2 days in Quebec City and 2 days in Montreal, and loved both in their own ways! I visited in the winter and both Montreal and Quebec City are beautiful and each have their own special kind of magic during the season.
Each destination has its own share of pros and cons, which I'm here to break down for you so you can make a decision on whether you should visit Quebec City vs Montreal.
Keep on reading for a side-by-side comparison of things like food, activities, history, culture, transportation, costs, and more to help you make a decision on which city you should visit!
This post contains affiliate links. This means that if you make a purchase or booking, I may receive a small commission at no additional cost to you. Pictures & Words is a participant in the Amazon Services LLC Associates Program, an affiliate advertising program designed to provide a means for us to earn fees by linking to amazon.com and affiliated sites at no cost to you.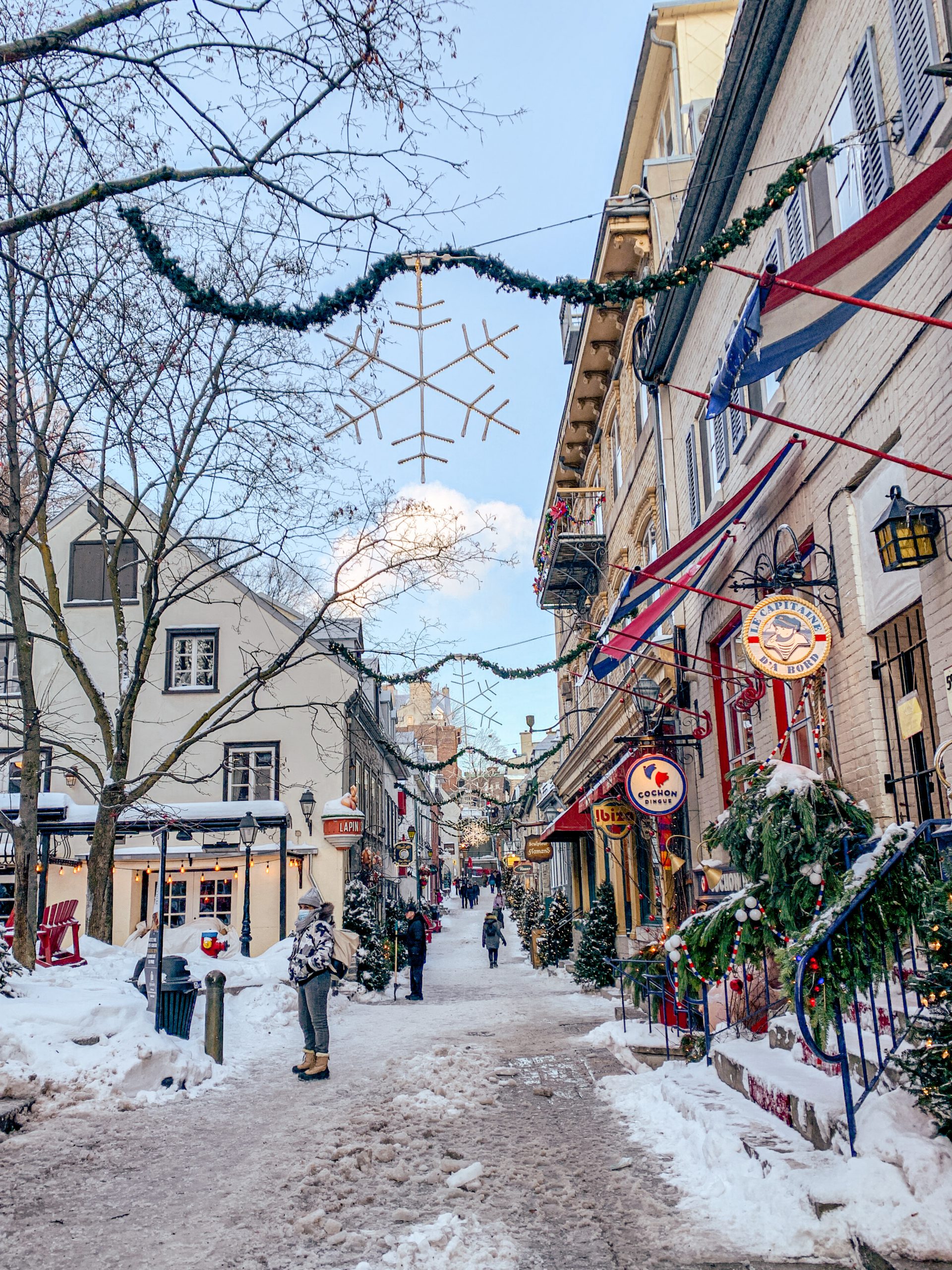 If you can…don't choose between Quebec City vs Montreal – visit both!
If you can, I suggest visiting both Montreal AND Quebec City! I loved both in their own ways, and I recommend visiting both cities to experience different sides of the Quebec province.
I visited Montreal and Quebec City over five days, and while I definitely wished I had more time because I fell in love with both cities (and hellooooo because I wanted to eat more poutine and maple treats!), I think you can easily do them both in under a week.
You can easily get in between the two cities via train or bus in around three hours, and there is frequent daily service.
If you only have a few days to spare, however, then I understand that you can only choose one and need to choose between Quebec City or Montreal.
Montreal vs. Quebec City: Which Should You Visit?
How much time do you have?
The first factor I would look at is how much time you have to devote to visiting either city.
Montreal is a much larger city, and much more spread out. Therefore, it will take you a bit longer to get in between the top attractions of the city, and you need to account extra time for this.
Quebec City, on the other hand, is much more compact and you can easily get to most of the top attractions on foot.
VERDICT:
If you have 3-4 days to visit: Go to Montreal
If you only have 2-3 days to visit: Go to Quebec City
Size + Vibe
I briefly mentioned this above, but…
Montreal is the largest city in the Quebec province, and the second largest in Canada. The population is 1.78 million (as of 2017). It is one of the fastest growing cities in North America. The city itself is quite large in terms of area, spanning 166.6 square miles.
Therefore, Montreal is going to have a much more urban feel, with all of its attractions spread out throughout the city. It takes longer to get from point A to point B – you're going to have to utilize public transit (or taxis/ride shares) to get around, rather than just walking everywhere. It also feels busier and has much more of those big city vibes.
Quebec City has a much smaller population of 542,298, which is around a third of Montreal. While the area of the city is technically larger than Montreal's at 187.6 square miles, you'll find that the vast majority of the city's attractions are located in the historic center.
While Quebec City is technically the 12th largest city in Canada, it certainly doesn't feel like it – there's much more of the small town charm here. It's also got a slower, more relaxed pace.
VERDICT:
Choose Montreal if…you prefer big, urban cities
Choose Quebec City if…you prefer a small town vibe
Costs
The costs for Montreal and Quebec City are quite similar for food and accommodations. Since the exchange rate is favorable for the US Dollar ($1 USD = ~$1.25 CAD), both cities automatically felt cheaper.
I noticed that the admission prices for museums and other attractions were slightly higher in Montreal, but this is because the venues are larger than the ones in Quebec City.
Keep in mind that I visited during the winter months, and accommodations are cheaper during this time. Below, I'm listing some of my costs in both Quebec City and Montreal:
Montreal Costs
Hotel Uville (4* hotel): $160 CAD/night
Foie Gras Poutine at Au Pied du Cochon (upscale Quebecois restaurant): $31 CAD
Poutine at La Banquise (casual poutine restaurant): $12 CAD
Smoked Meat Sandwich at Schwartz's Deli: $13 CAD
Cocktail: $14 CAD
Notre Dame Basilica: $14 CAD
Montreal Museum of Fine Arts: $24 (ages 31+)/$16 (age 21-30)
Botanical Garden: $20.50 CAD
Bus/metro fare: $3.50 CAD
Uber: $8-10 CAD
Quebec City costs
Monsieur Jean Hotel (4*): $180 CAD/night
Entree at La Buche (sit-down Quebecois restaurant): $22 CAD
Meal at Le Chic Shack (casual restaurant): $25 CAD
Cocktail: $14
Citadelle: $18 CAD
Fortifications of Quebec: $8.50 CAD
Musée du Fort: $9 CAD
Funicular: $3.75 CAD
Bus fare: $3.50 CAD
Taxi: $7 CAD (within Old Town)
VERDICT: tied
Getting around
In Quebec City, I mostly got around on foot – the majority of the top attractions are located within the Old Town and not more than a mile apart from each other. This made getting around super easy!
I did take the bus one time when I had to leave the Old Town area, and found it to be relatively easy and straightforward.
While Uber supposedly exists in Quebec City, I did not see any cars in the app during my stay. I did take a taxi to and from the train station to the hotel (since I had luggage and the streets were slippery) and it was a relatively easy experience. There were taxis waiting outside the station, and my hotel was able to call one for me when I was leaving. Do note that the taxis do not accept credit cards, so you must have cash on hand!
Montreal is a much larger city, with all of its attractions spread out throughout the city. You will not be able to explore the entire city on foot. However, Montreal has a very well connected and easy-to-use public transportation system that will get you wherever you need to go! The city has several subway lines, along with a network of buses.
Ride share service is also available in Montreal for those times when you don't want to walk or take transit. Cars were relatively easy to find and it cost around $8-10 for rides around the city.
If you are visiting when it is super cold or super hot, Montreal has an Underground City – a network of walkways built under the streets of the city. There are also tons of shops, restaurants, and cafes as well. It's a perfect way to get around and escape the cold or heat.
VERDICT: Montreal
Language
As both Montreal and Quebec City are located in the Quebec province, French is the official language. You will hear French spoken all around you, and most signs and storefronts are in French as well. This is true in either Quebec City or Montreal!
English is widely spoken in the main tourist areas, so you can still communicate easily even if you don't speak a word of French (or have pitiful pronunciation, like me). Both cities are fun places to practice, though!
With that said…
Quebec City had a higher concentration of French being spoken. While many of the people I encountered spoke English, you could tell that their main preference was speaking French.
Montreal had a higher concentration of English speakers, and you could tell that people were comfortable speaking English. While you hear French being spoken all around you, you heard a lot more English as well.
VERDICT: even
Weather
Winter
Quebec City is located slightly north of Montreal. This meant that it was FREEZING when I visited in the winter – while it didn't feel that bad in the daytime when the sun was out, it was frigid once it got dark!
Average winter temperatures in Quebec City:
December: 26°F high / 14°F low
January: 20°F high / 6°F low
February: 24°F high / 8°F low
March: 33°F high / 18°F low
Montreal also felt cold, but didn't feel as cold as in Quebec City. However, both cities are significantly colder than, say, Vancouver.
Average winter temperatures in Montreal:
December: 28°F high / 16°F low
January: 22°F high / 9°F low
February: 25°F high / 13°F low
March: 36°F high / 24°F low
Summer
Both cities experience pleasant temperatures in the summer months, and as such, it is considered the high season.
Quebec City's location in the north does mean that the temperatures are slightly cooler:
June: 72°F high / 52°F low
July: 77°F high / 57°F low
August: 75°F high / 55°F low
It does cool down a bit at night, so be sure to bring a jacket!
Montreal is a few degrees warmer:
June: 75°F high / 59°F low
July: 80°F high / 64°F low
August: 77°F high / 62°F low
VERDICT: even
Safety
Canada has a reputation for being a very safe country to travel to. This is especially true in the Quebec province, where the crime rate is 40% lower than the national average (with violent crimes being 18% lower).
I visited both cities as a solo female traveler, and felt very safe the entire time I was there! However, I took normal precautions, such as not staying out late at night, not being super intoxicated, not going off with strangers, not flashing valuables, etc.
That said, the number of homicides in 2021 were:
Quebec City: 5
Montreal: 48
Montreal has significantly more homicides than in Quebec City, but that's not to say that it's unsafe – far from it! It still ranked as the safest among a list of North American cities including San Diego, San Francisco, New York City, Los Angeles, and Toronto.
Activities
When trying to choose between Montreal vs. Quebec City, consider the activities that each city is known for, and your interest in each of them. Here are some of the highlights of each city below:
Things to Do in Quebec City
Admire the Chateau Frontenac (and take a tour of the inside).
Stroll through the charming Quartier Petit Champlain (it is especially magical during the winter!), one of the oldest streets in North America.
Visit Place Royal, known as the birthplace of French Canada.
Walk along the Quebec City Fortifications.
Visit the star-shaped Citadelle, the largest British fortress in North America and is a key part of the city's fortifications.
Explore the Plains of Abraham,the site of the famous Battle of the Plains, when the British army defeated the French in a pivotal battle of the Seven Years' War. Today, it is a museum, as well as home to a plethora of outdoor activities.
Ride the historic Quebec City Funicular, which runs between the Lower Town and Upper Town of Old Quebec.
Visit the impressive Montmorency Falls (which are taller than the famous Niagara Falls!).
Take a day trip to the Ile de Orleans.
Mostly known for: Historical attractions
Things to Do in Montreal
Stroll through the charming Old Town.
Visit the stunning Notre-Dame Basilica (and check out the nightly light show).
Explore Mount Royal Park (also the highest point in the city and what Montreal is named after).
Check out the city's excellent markets, including the Marche Atwater, Jean Talon Market, and Bonsecours Market.
Visit the city's world-class museums, including the Biodome, Montreal Museum of Fine Arts, and McCord Museum
Explore the Montreal Botanical Gardens.
Explore the Underground City, a network of walkways, shops, cafes, and more built under the streets of Montreal.
Visit the Old Port and ride the Le Grand Roue Ferris Wheel, the tallest in Canada
Take a street art tour
Mostly known for: World-class museums + big city attractions
While Quebec City has plenty of interesting things to do, it can be fully explored in only 2-3 days. I feel like I'd get bored if I stayed longer than that (although there are parks and natural areas you can explore beyond the city, should you decide to extend your stay).
Montreal has plenty to see and do to keep you occupied for a while. I only stayed 3 days (more like 2.5) and really wish I had extra time! I'm itching to go back to Montreal to do all of the things that I missed. The museums and cultural venues are also larger and more significant than in Quebec City.
VERDICT: Montreal
Accommodations
You'll find no shortage of accommodation options in both Montreal and Quebec City, to suit your taste and budget – everything from stylish boutique hotels, charming inns, hostels, and vacation rentals.
Quebec City's hotels and accommodations tend to be clustered around the Old Town, which is where almost all of its main attractions are located. There also tends to be fewer properties than in Montreal (which makes sense, as it is a smaller city), making it slightly more expensive to stay near the main attractions. Still, I found that hotels were relatively affordable in general, especially compared to similar destinations.
Some recommended hotels in Quebec City:
Montreal has tons of accommodation options all around the city. You don't necessarily have to be right in the center of the city, as Montreal is spread out and there are attractions all around the city. This means that you have a better chance of scoring deals on a place to stay.
There is also more variety – there are many more luxury options, as well as budget accommodations, whereas most of Quebec City's hotels tend to be more mid-range.
I will say though, I stayed near the Old Town and do still recommend it for the convenience and walkability factor – it's also the most picturesque part of the city.
With that said, here are some recommended hotels in Montreal:
Hotel Uville: Where I stayed! A fun boutique hotel themed after 1960s Montreal and located right next to Old Montreal.
Fairmont Queen Elizabeth: Your best choice if you're looking for luxury. You also can't beat the location as it is located right above the train station!
M Montreal: A good option for travelers on a budget, with both private rooms and dorms.
VERDICT: Montreal
Food
Now to my favorite thing about traveling – the food!
Both Montreal and Quebec City have amazing food, and I enjoyed eating my way through each. However, they are known for different kinds of culinary experiences.
Montreal is a big, cosmopolitan city and as such, you'll find much more diversity in the cuisines offered. Yes, it's a fantastic place to enjoy Montreal bagels, smoked meats, and poutine (staples of the local food), but there's so much more than that to the culinary scene in Montreal – you'll find acclaimed restaurants for any kind of food including Indian, Japanese, Middle Eastern, and much more!
I also enjoyed visiting the food markets in Montreal. They are a feast for the senses! I loved seeing what all the vendors had to offer, as well as sampling my way through the stall. While Quebec City also has some awesome markets, they are a bit further out from the Old Town and I was too lazy to go to them.
Quebec City is also known for their amazing food. I remember a few years back, before the city was ever on my radar, my friend visit and came back absolutely RAVING about the food – which is what initially piqued my interest. After visiting, I can wholeheartedly agree and say that the food *IS* amazing!
However, most of the restaurant that you'll find (especially around Old Quebec) serve French Canadian or other European cuisines. There is not much diversity in terms of the food. Perhaps it is because I didn't look very hard (I did come to eat French Canadian food after all!), but it seemed as most of the restaurants I found were European (mostly French, Quebecois, or Italian at that).
That said, I loved the food and trying all of the French Canadian specialties that I came to the Quebec region for!
VERDICT:
Montreal: if you want a multicultural array of acclaimed restaurants
Quebec City: if you want to eat traditional Quebecois cuisine
Old Town
Quebec City is the older of the two cities, founded in 1608 and was the site of the first French settlement in North America. The entire Old Town is a UNESCO World Heritage Site, and you can really feel the historical charm as you walk through the quaint cobblestone streets in the city, with colonial architecture and colorful facades.
You can really feel the city's history come alive when you visit some of its top attractions. The city is known as the "Gibraltor of North America," and many of the most significant events in Quebec's history occurred here. Some of the most significant sites are the Citadelle, the Fortifications of Quebec (Quebec City is the only fortified city north of Mexico), and the Plains of Abraham.
Montreal feels like a big, bustling city. While the city retains some of its historical charm in its Old Town with its colonial stone buildings, but it is not nearly as beautiful as Quebec City's Old Town.
While it is still pretty and I still really enjoyed strolling through it, I much preferred Quebec City's Old Town, and found that Montreal's didn't quite have the same magic.
VERDICT: Quebec City wins this one, hands down
European Vibes
If you are wanting to visit Quebec City or Montreal, chances are that you are looking to soak up some of their European vibes. Visiting either city is the next best thing if you can't hop on a plane to Europe right this second!
Quebec City made me forget that I was still in North America (and had to cancel yet another Europe trip because of "you know what." EVERYTHING from the colorful facades, cobblestoned streets, fairytale architecture, and even the French being spoken just felt like I'd transported myself to Europe. The European charm was very alive and well in Quebec City!
While parts of Montreal feel very European, other parts just feel any old big city. Parts of it reminded me of New York City as well (not a bad thing, as it's one of my all-time favorite cities!). While I did enjoy the European vibes of the Old Town, it kinda paled in comparison to that of Old Quebec.
VERDICT: Quebec City, hands down
Seasonality
Visiting Montreal or Quebec City is going to look a whole lot different visiting in the summer vs. visiting in the winter. I visited in the winter, which is a different experience than visiting in the warmer months.
That said, here is a rundown of Montreal vs. Quebec City in the summer and winter:
Winter
Winter is a beautiful time to visit Montreal or Quebec City, as both cities are especially magical when coated under a layer of snow.
Both cities also have proximity to winter recreation, such as skiing, as well as traditional sugar shacks, which offer a distinctly Quebecois experience. Both cities also have pop-up events and festivals in the winter months, such as carnivals, Christmas Markets, ice skating rinks, and moe.
Quebec City is one of the best winter destinations in North America. It is a literal winter wonderland – spending a few days in Quebec City made me feel like I was living inside a snowglobe!
It is also one of the best Christmas cities in the world (along with Munich, Prague, Leavenworth, and New York). The entire city looks like it's straight out of a Hallmark Christmas movie, with festive storefronts and twinkling lights. The Quartier Petit Champlain is especially magical during this time!
Quebec City even has an authentic German Christmas Market, which were just like the ones that I visited in Germany – almost!
Montreal also dresses up for the holidays, with festive lights and decorations being hung up all around the city, especially in the Old Town. I loved walking through Old Montreal at night and taking in all of the Christmas decorations – it was magical!
Montreal also has a few Christmas markets in the city, however, they paled in comparison to the one that I visited in Quebec City, and especially compared to the ones in Europe. It's a great way to get just a taste of the tradition, but far from the real thing.
However, Mount Royal turns into a winter wonderland and offers many winter recreation opportunities – right in the middle of the city! You can't go wrong with that!
VERDICT: Quebec City
Summer
You really can't go wrong with Quebec City vs. Montreal in the summer months – it is the most popular time to visit both cities. The weather is nearly *perfect* and everyone wants to spend some time outside to soak up the sunshine!
Both cities host lively festivals and other events throughout the summer months, which make them a fun time to visit!
In Quebec City, you'll find everyone outside and hanging out all around the city – from the Dufferin Terrace, to the Plains of Abraham, to Place Royals, where you'll find colorful flower pots hanging from the buildings' windows. . You'll find people hanging out in the patios and terraces that pop up at the city's cafes and bars – everyone enjoying a drink and hanging out. There's also a fun umbrella street!
Montreal is very lively during the summer months. Much like in Quebec City, everyone hangs out in patios, and the city puts on tons of events during the summer months! According to a friend who visited both cities in the summer, there is ALWAYS something going on everywhere in the city – from fun pop-ups, festivals, performances…the list goes on! You can go anywhere in the city and always find something fun going on!
VERDICT: Montreal – although I haven't visited either city in the summer, I'm going with what my friend says here, which is that there is ALWAYS something going on during summer in Montreal, which makes it super fun!
Final Verdict: Quebec City vs. Montreal – which is better?
MY PERSONAL PICK: QUEBEC CITY
While Montreal certainly has its merits, Quebec City gets the edge for me personally, thanks to its abundance of historical charm and European vibes!
Sure, Montreal has many of the conveniences of a big, metropolitan city (i.e. well-connected transportation and world-class museums), but it just doesn't have the charm that Quebec City has and that's what made me fall head-over-heels in love with it. I liked Montreal – I absolutely LOVED Quebec City!
I still really enjoyed visiting both and I do want to go back someday! And I might go out on a limb here and say that I'd probably go back to Montreal first – because I feel like there's so much more left to do in the city! However, I'd still go back to Quebec City in a heartbeat!
I do realize that not everyone has the same preferences and travel style as me, so you might have a different opinion about if Montreal or Quebec City is better. Here is a handy little checklist to help you decide what you prefer:
You should go to Quebec City if…
You want to go somewhere that has more of a small town feel
You enjoy historical attractions
You want the more "Instagrammable" cobblestoned streets + fairytale architecture
You want to go somewhere Christmas-y
You want more of a European vibe
You want to experience more French culture
You should go to Montreal if…
You like big, bustling cities
You're a museum person and want to go to world-class museums
You want to experience more diversity
You want to eat more ethnic cuisine
You prefer to rely on transit
You have more than 2-3 days to visit
You want all of the big city conveniences
Which would you pick – Montreal vs Quebec City?
You might also like:
2 Days in Montreal Itinerary
2 Days in Quebec City Itinerary
Montreal in Winter
Quebec City in Winter
2 Days in Vancouver
Like this post? Save to Pinterest for later!