Only have one day in Dublin and want to know the best things to do and see? Be sure to read this itinerary to make sure you see the best of Dublin in 1 day!
It may have a reputation as a city known for being grey, rainy, and cold, but Dublin is a fun, bustling city full of energy, with lots of history! I only got to spend 1 day in Dublin but I had such an awesome time exploring this beautiful, vibrant city.
Dublin was actually the first city that I ever visited in Europe – upon seeing a $400 round-trip flight from San Francisco, I jumped on it immediately. I decided to spend a night there, using it as the gateway to Europe, and on the way to the rest of my itinerary (5 cities in 10 days, oh my).
Sure, it was definitely grey and rainy on my one day in Dublin, but that wasn't anything that some pints of Guinness (and Irish coffees) couldn't solve! I loved the beautiful brick facades, the super friendly locals, the history teeming around every corner, and the lively pub culture in the city.
Keep on reading to find out how to spend the perfect one day in Dublin!
Disclosure: This post contains affiliate links. This means that if you make a purchase or booking, I may receive a small commission at no additional cost to you.
Getting to City Center for Your 1 Day in Dublin
For your one day in Dublin, you will most likely arrive into the Dublin Airport, located about 10 kilometers (~6 miles) outside of city center. The airport has two terminals – most European flights will arrive in Terminal 1, while most transatlantic flights will arrive in Terminal 2 (along with flights on Aer Lingus).
If you are spending 1 day in Dublin on a long layover and need somewhere to store your luggage, baggage storage services are available in the arrival hall in Terminal 1. The service costs €12.50 for 24 hours (you can leave your luggage for longer, if necessary), and the counter is open from 5am-11pm daily. You can see more information here.
From the airport, you have several options for getting into city center:
If you are looking for the most direct option: As we had just gotten off a long transatlantic flight, we were lazy and tired and chose to take a taxi. You will find plenty of taxis lined up right outside as you leave the airport terminal, so hailing one should be fairly easy. The trip into city center took about 30 minutes and cost about €30.
If you plan to use public transport while in Dublin: If you plan to use a lot of public transportation to get around on your one day in Dublin, your best option is to use the Airlink 747 or 757 bus to get into town.
This is because you can use the Leap Visitor Card on the Airlink. A 1-day card is €10 and is also valid on all other city buses, trams, DART and commuter trains (within Dublin city and county). This is the best deal since the Airlink costs €6 for a one-way or €11 for a round-trip fare! You can find out more information about the card here.
You can purchase a Leap Visitor Card at the bus and travel information desk in Terminal 1, or at the Spar convenience shop in Terminal 2. Airlink staff can then direct you to where to catch the bus. The bus makes stops at several major points of attraction in the city – route and timetable information is available here.
If your flights arrive or leave at odd hours: The only service that runs 24 hours is the Aircoach bus. There are a few Aircoach routes, but if you're only spending 1 day in Dublin, chances are you should take the 700 line, which is the main line which makes stops in the city center.
You can catch the Aircoach outside of both terminals. Fares are €7 for one-way and €12 for return. More information is available here.
If you arrive to Dublin via train, the two major stations in the city are Connolly Station and Heuston Station. The latter is much closer to city center, but in any case, you can take the Luas Red Line tram from either station to connect to Central Dublin.
Cruises and ferries dock at the Dublin Port, about two miles outside of city center. From here, you can take the 53 bus to points in Central Dublin.
How to Get Around During your One Day in Dublin
Dublin's city center is relatively compact, with most of its major attractions within a mile of each other. This means that you can easily explore Dublin in 1 day, and you can easily get to most points of interest just by walking to them.
Otherwise, Dublin has a relatively well-connected and efficient public transport system. The two main ways to get around the city center are the Dublin Bus and the LUAS tram, which will get you everywhere you need to go in this 1 day in Dublin itinerary.
Fares within Central Dublin are €2.15. You can pay your fare on board buses and trams, but exact fare is necessary and you must use coins. As I mentioned earlier, a better way to pay for public transport is to get a Leap Card, which can be used on buses, trams, the DART and commuter rail systems, and the Airlink bus to and from the airport.
If you didn't pick up a Leap Card at the airport, you can purchase one at several outlets in Central Dublin, including Heuston Station, the Visit Ireland Centre, and the Discover Ireland Centre. See here for all locations for purchasing the Leap Visitor Card.
You might also consider purchasing a hop-on, hop-off bus tour – this is a great option for when you want to see as much as possible when you only have 1 day in Dublin, because they make a stop at all of the city's most popular attractions!
Since taxis are heavily regulated in Dublin, ride sharing apps are illegal. Not to worry, though – taxis are everywhere in the city (it is said that Dublin has more taxis than New York City), and fares are relatively affordable (we paid no more than €7-8). While you can easily flag down a cab on the street, you can download the MyTaxi app as well, which works like Uber for taxis.
Things to Do and See in One Day in Dublin:
Eat an Irish Breakfast
We arrived bright and early at Dublin Airport around 8am. After clearing customs (an easy and straightforward process), making our way towards city center, and dropping our bags off at the hotel, we were starving.
Since you are in Ireland after all, why not start off your one day in Dublin with a traditional Irish breakfast? There are different interpretations of what an Irish breakfast exactly is, but at its core, it includes sausages, eggs, bacon, baked beans, white pudding and black pudding.
There are a number of places in the city that serve a delicious Irish breakfast, but I chose Hatch & Sons, which is right opposite St. Stephen's Green. It is tucked away in a basement and has a super cute, cozy vibe.
The food is simple but comforting and delicious, perfect for a grey, rainy morning. The best part of the breakfast was the piece of Irish soda bread that came with it – and, if you've never had Irish soda bread before, you are definitely in for a treat!
After breakfast, you'll be perfectly ready to conquer Dublin in 1 day!
Address: Basement, 15 St Stephen's Green, Dublin 2
Hours: Monday – Friday 8am-5pm, Saturday 9am-6pm, Sunday 11am-5pm
St. Stephen's Green
Afterward breakfast, walk across the street to St. Stephens Green. This is a big historical park located right in the center of the city. The park is surrounded by gorgeous Georgian-style dwellings and notable historical buildings, many of which date back to the mid-18th century, when the space was for private use only.
St. Stephen's Green was reopened to the public in 1877 by when Sir Arthur Edward Guinness, who pushed an act through parliament to make the space available for public use again, and also financed the park's gardens and ponds.
At first glance, St. Stephen's Green just looks like any other city park. The nine hectare (22 acr) space features over 3.5 kilometers of pathways, beautifully landscaped gardens, a large lake, and more. However, the significance of St. Stephen's green is the role that it played in the history of Dublin.
There are many monuments within the park that pay tribute to some of the significant events that took place in the park. One of these includes the Fusiliers' Arch, which commemorates the 212 soldiers of the Royal Dublin Fusiliers who were killed fighting for the British in the Boers War.
Another is a monument dedicated to Wolfe Tone, the leader of the 1978 rising, which has also been dubbed "Tonehenge" due to the vertical slabs that serve as a backdrop to the statue. There is also a monument remembering those who have died in the Potato Famine.
Today, the park is a popular spot for picnics and outdoor events. Unfortunately, my one day in Dublin was spent in mid-February, so it was rainy, windy, and cold. We only took a quick stroll through there, but found it super pretty! The greenery was such a beautiful sight, especially against the grey skies.
Afterwards, make your way north to Trinity College.
The Book of Kells
One of the things that I was looking forward to seeing the most during my one day in Dublin was Trinity College's Long Room library and the Book of Kells. I had seen photos of the Long Room in the college's Old Library all over the internet, and was fascinated – I knew I had to see this library in person!

You will first get to see the "Turning Darkness Into Light" exhibition, which showcases some of the oldest manuscripts in Ireland and in the world. You will get to see the Book of Kells, a Latin manuscript of the Four Gospels of the New Testament which is known as one of the most influential texts in the world. It was completed in the ninth century, printed on vellum, and the text is surrounded with intricate illustrations.
After this, you will finally get to see the Long Room. The magnificent library was built in the 18th century and holds 200,000 of the collection's oldest books. Easily the coolest thing that I saw during my one day in Dublin!
You will be amazed by the tall shelves, the beautiful barrelled ceiling (which was added so the space could hold more books), and the marble statues of famous philosophers and writers, which line the central walkway. If this reminds you of a scene straight out of Harry Potter, then it's not just you – it is said to have been used as a source of inspiration for the Hogwarts library!
This is definitely one of, if not the most popular attraction in Dublin. To save time and to make the most out of your one day in Dublin, you can book this tour, which gets you early access to the library and Long Room, and also includes a tour of Dublin Castle tour, which is the next stop on this 1 day in Dublin itinerary!
Address: College Green, Dublin 2, Ireland
Book tickets: here
Admission: €14
Hours: Monday – Saturday 9:30am-5pm. Sunday noon-4:30pm
Trinity College
After seeing the Book of Kells and the Long Room, spend some time checking out Trinity College, Dublin's main university (you can even purchase an optional guided tour add-on with your Book of Kells admission, but I think a self-guided walk through the campus is plenty).
Trinity College has a history dating back to 1592, and was founded by Queen Elizabeth I. It is one of the seven ancient universities of Britain and Ireland, and is one of the most prestigious universities in Ireland.
The campus has lots of beautiful old buildings, and despite being right in the middle of a bustling city, has the feel of peace and quiet. The rain and wind didn't make us want to walk around for too much, but it was definitely worth a quick stroll through, to take in the history and beauty of the campus.
Afterwards, start making your way towards Dublin Castle.

Stroll through Central Dublin
Central Dublin is full of historic buildings, and cute shops, cafes, and restaurants to hang out in. Strolling through the charming streets of Central Dublin is a must during your one day in Dublin!
One of my favorite things to do in any given city is to just wander aimlessly, and I spent some time getting lost in Central Dublin's streets while on the way to Dublin Castle. I loved the beautiful brick facades, the charming 18th century townhomes, and colorful doors.
Dublin also has a lovely riverfront area, which makes the perfect place for a stroll. You can also snap a photo of and walk across the Ha'penny Bridge, a charming elliptical pedestrian bridge that stands over the city's River Liffey. Officially named the Liffey Bridge, the bridge gets its nickname from the half-penny, or ha'penny toll that was once charged for crossing the bridge, which replaced an outdated ferry system.
Dublin Castle
Dublin's very own castle sits right inside the heart of the city and dates back to Viking times. The castle complex was built in the middle of a Viking settlement in the 13th century, but had to be rebuilt after it was damaged in a large fire in 1684.
Dublin Castle held the seat of the United Kingdom government in Ireland from the time it was built until the country's independence in 1922. Aside from being a museum, it still holds a seat of the Irish government today.
While there are known to be more spectacular castles in the Irish countryside, I still thought it was cool that there was a castle right smack dab in the middle of the city! The castle's significance in both the history of Dublin and Ireland makes it a must on your one day in Dublin itinerary.
You can admire the exterior of the castle from the courtyard, as well as check out the landscape of the beautiful Dublin Garden, immediately behind the castle. The gardens have six connecting pathways that are made to look like the Celtic symbol from above.
Touring the inside of the castle will give you a unique insight into the history of Dublin and Ireland. You can do a self-guided tour of the castle, which gives you access to the exhibitions and the State Apartments.
There is also a 60-minute guided tour, which will give you access to parts of the castle that are not available with the self-guided option, including the Chapel Royal and the Viking excavation.
The Dublin Castle is also home to the Chester Beattie Library, which is an award-winning museum featuring the private collection of its namesake, a mining magnate. It houses manuscripts, rare books, decorative arts, prints, drawings, and more, from across the world and dating back to 2700 BC. Best of all – admission is free!
After touring the Dublin Castle, walk a few blocks over to the St. Patrick's Cathedral to continue your one day in Dublin itinerary.
Address: Dame St, Dublin 2, Ireland
Admission: €8 for self-guided tour, €12 for guided tour
Hours: 9:45am – 5:45pm daily (last admission at 5:15pm)
Book tickets: here
St. Patrick's Cathedral
One of the most famous churches in the world, the St. Patrick's Cathedral is Ireland's national cathedral, and also the largest. It would be a shame to miss the St. Patrick's Cathedral on your one day in Dublin, with its beautiful Gothic architecture and intricate details, like the high vaulted ceilings and breathtaking stained glass windows.
The church started construction in 1191, and is one of the last remaining buildings from the Medieval period. It is named after Ireland's patron saint, yes, that one we celebrate on March 17 by wearing green and drinking lots of beer. It is said that Saint Patrick himself baptized converts into Christianity using water from a spring that is on the property.
St. Patrick's Cathedral is also the final resting place of Jonathan Swift, best known as the author of Gulliver's Travels, who was the dean of the cathedral in the 1700s.
It is well worth seeing the interior of the cathedral on your 1 day in Dublin, as it boasts exquisite Gothic architectural details, and has gorgeous stained glass windows, one of which tells the life story of Saint Patrick in 39 images. There is also a collection of statues and historical artifacts around the altar.
Even if you don't go inside the church (but you really, really should!), you should definitely take some time on your one day in Dublin to admire the structure from the outside, and walk around the well-manicured grounds.
Address: St Patrick's Close, Wood Quay, Dublin 8, Ireland
Admission: €8
Book tickets: here
Hours: Monday-Friday 9am – 5pm, Saturday 9am – 6pm, check hours on Sundays
Christ Church Cathedral
A short walk away from St. Patrick's is yet another cathedral – the Christ Church Cathedral. Yes, you should definitely visit both on your one day in Dublin, as both are equally impressive!
While smaller than St. Patrick's, the Christ Church Cathedral is actually a century older. Founded in 1028 by the Vikings, the church is the oldest working structure in the city.
It is a gorgeous marvel of architecture and history, and perhaps the most fascinating thing here are the medieval crypts under the church, the largest in Ireland. The exterior of the cathedral boasts stunning Gothic and Roman architectural details, including a beautiful bridge that connects the church's buildings.
You can either explore Christ Church on your own, or book a guided tour, which lets you visit parts of the cathedral that aren't accessible otherwise. I found out after the fact that the guided tour actually takes you up to the Belfry, where they will let you ring the church bells – so cool!
If you have extra time on your 1 day in Dublin itinerary, you can also check out the Dublinia museum, which is connected to Christ Church. The interactive museum has interesting exhibits on the Medieval history of Dublin, and gives you a unique insight into Viking life, such as visiting a Viking house and warship. I didn't have time, but would definitely love to check it out someday!
Afterwards, it's time for dinner!
Address: Christchurch Pl, Wood Quay, Dublin 8, Ireland
Admission: €7
Book tickets: here
Hours: Monday – Saturday 9:30am-5pm, hours vary on Sundays
Grub on some pub food
Dublin has such a wonderful pub culture that spending some time in one is a must while spending one day in Dublin! Many of the pubs also serve delicious food, which makes it a great option for dinner.
We stopped into the Brazen Head, which also happens to be the oldest pub in Ireland. Historically a meeting spot for rebels, the pub dates back to 1198, and you can truly sense the history within the walls.
They also have a menu of pub favorites, such as bangers and mash and Guinness stew. It was such perfect comfort food for the chilly, rainy weather during our 1 day in Dublin!
If you dine late (after 9:30pm – we actually ended up eating dinner here and then came back later in the night), they also have live traditional Irish music and storytelling performances, hosting musicians from all over Ireland. Depending on the night, you might traditional Celtic music (what was playing the night we were there), or contemporary Irish ballads.
Address: 20 Lower Bridge St, The Liberties
Hours: Monday-Thursday 10:30am-midnight, Friday-Saturday 10:30am-12:30am, Sunday 12:30pm-1am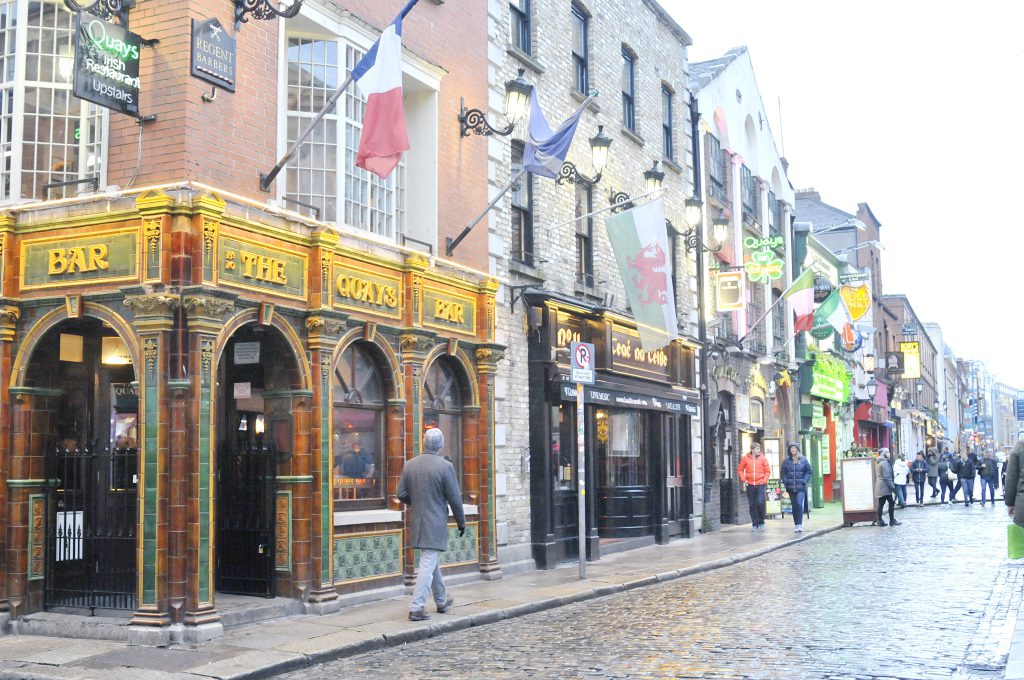 Hang out in Temple Bar
Ok, so Temple Bar may be touristy AF (perhaps to Dublin what Fisherman's Wharf is to San Francisco, aka home for me), but hey, when in Rome (or Dublin), right? Your one day in Dublin is definitely not complete without spending time in Temple Bar.
Temple Bar is a colorful, energetic district lined with tons of pubs, and is the center of the city's nightlife. The neighborhood's history goes back to 1599, when Sir William Temple, a renowned teacher and philosopher, built his house here
Yes, you should definitely stop by the infamous Temple Bar Pub as well. It is definitely packed full of tourists, but it had such a lively and fun atmosphere, that it was one of my favorite stops on my one day in Dublin. Everyone was so friendly here, and chatting up the other pub-goers over a pint was one of my favorite memories of my one day in Dublin!
The Temple Bar Pub was also great to enjoy some traditional live music, and you should definitely plan to spend some time to take it in and enjoy it over some pints of Guinness (or Irish coffee) – after this packed one day in Dublin itinerary, this is the perfect way to end the night!
Other Things to Do On Your 1 Day in Dublin
Have extra time on your one day in Dublin itinerary, or planning to spend more time in Dublin? Here are some ideas for other things to do and see – these are all things that I considered doing, but didn't have time for:
The Guinness Storehouse
One of the most iconic experiences in Dublin. Guinness and Ireland are pretty much synonymous, so it's no wonder that the Guinness Storehouse is one of the most popular tourist attractions in Dublin – I had really wanted to make a stop, but it was a little bit further away from the rest of the stops on this one day in Dublin itinerary.
This is a self-guided tour, and will take you through seven stories of exhibits, shaped around a giant pint. You can also take a "Perfect Pint" class to bottle your own pint of Guinness to take home, and enjoy epic views of the city from the Gravity Bar on the top floor!
The Guinness Storehouse is one of the most popular attractions so be prepared for crowds – to save time, especially if you're trying to fit it into a one day in Dublin itinerary, I would book this skip-the-line pass here, which also comes with the Perfect Pint experience.
Address: St James's Gate, Dublin 8, Ireland
Admission: €18.50 for self-guided tour; additional €5.50 for Perfect Pint experience
Book tickets: here
Hours: 9:30am-5pm daily

The Jameson Distillery
If there's anything else that is synonymous with Ireland other than Guinness, it's probably whiskey, and the most iconic is probably Jameson. Why not tour the distillery, and drink the world-famous whiskey right from the source?
The tour is a multi-media experience that takes you through the distilling process, and explains the flavors, smells, etc. of whiskey. Of course, it comes with a whiskey tasting, making this a worthwhile addition to your one day in Dublin.
This is another popular stop in Dublin, so I suggest pre-booking your tickets ahead of time here.
Address: Bow St, Smithfield Village, Dublin 7
Admission: €22
Book tickets: here
Hours: Sunday-Thursday 10am-7pm, Friday-Saturday 10am-8pm
Kilmainham Gaol
If you want a bit of an eerie experience on your 1 day in Dublin, check out the Kilmainham Gaol, an unoccupied jail that is famous in Europe. The prison was the site of the executions of Irish rebels of the Easter rising of 1916, and public hangings took place here even before that.
The jail is said to be super haunted, and has also been a filming location for many movies. The only way to access the Kilmainham Gaol is by guided tour, and you must book your time slot in advance here.
It is a sobering look at some of the events that make up the history of Ireland.
Address: Inchicore Rd, Kilmainham, Dublin 8
Admission: €8
Book tickets: here
Hours: 9:30am-6pm daily
Day Trip to Cliffs of Moher
If I had more than one day in Dublin, I absolutely would've taken a day trip to the Cliffs of Moher. I would've definitely loved to see those jaw-dropping views!
This is probably the most popular day trip from Dublin. For the most convenience, you should book a guided day tour. There are many options available, but this is a popular, highly-rated option – it takes care of transportation but leaves you plenty of time to explore on your own.
If you want to see more of Ireland on a day trip, there is this tour that combines the Cliffs of Moher with Galway, and this one, which also takes you to Burren.
Weather in Dublin
Weather in Dublin is known to be rainy, no matter what time of year, so it pays to be prepared for the rain at all times! It's a good idea to pack a windbreaker, or during chillier months, a packable puffy jacket. Carrying a compact travel umbrella is also a must!
I spent my one day in Dublin in February, and it was definitely chilly and rainy all day.
You will most likely do a lot of walking during your 1 day in Dublin, so comfortable shoes are a must! I wore these boots during my one day in the Dublin – I love them because they are stylish, waterproof, and comfortable!
Where to Stay in Dublin
Need a place to stay after your one day in Dublin? We spent the night at the Ashling Hotel before boarding an early morning flight to Paris the next day. The hotel is a bit further out than the center of town, where most of the places on this one day in Dublin itinerary are located, but is right next to Heuston station, making it super easy to get around. It is also across the street from the Airlink bus stop, making getting to and from the airport a breeze.
We loved our stay here, even though it was short! The hotel has somewhat of an upscale feel, the rooms are spacious and comfortable, and the staff went above and beyond in every way.
Staying a bit outside of the center of the city also meant that it was quiet and peaceful, helping us rest and relax after our busy one day in Dublin.
Looking to stay closer to the center of the action? The Dean Hotel came highly recommended to me, and is within walking distance to many of the places on this 1 day in Dublin itinerary. It is a trendy hotel that is a favorite of Instagrammers and was on Conde Nast Travel's Hot List.
On a budget? The award-winning Generator Hostel is right next to the Jameson Distillery and has dorm beds for as little as €8. I've stayed at other Generator locations in Europe and have found them to be a fun, hip, safe, and comfortable place to stay!
Looking for other options for places to stay in Dublin? Compare hotel rates here.
Have you ever been to Dublin? If so, what were some of the highlights of your trip?
Disclosure: This post contains affiliate links. This means that if you make a purchase or booking, I may receive a small commission at no additional cost to you.
Want to spend more than 1 day in Dublin? Here's what you should do in 48 hours in Dublin
You might also like:
12 Hours in London
2 Days in Florence
2 Days in Paris